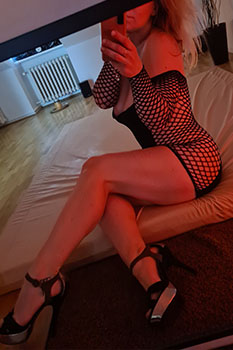 Gallery
Hanka
| | |
| --- | --- |
| Age: | 33 |
| Height: | 170 |
| Dress size: | M, 75 C |
| Piercing/tattoo: | Ano/Ano |
My experience

Masíruji od roku 2009
Rekvalifikační kurz sportovní a regenerační masáže
Manuální lymfodrenáž
Indická masáž hlavy a antistresová masáž
Havajská masáž
Reflexologie nohy
Indonéská Bali masáž
Postizometrická relaxace
Kurz tantra masáže
More
What can you expect from me?

I'm sorry, but this girl doesn't speak english. Only really a little bit....
What do I like?

Těší mě má práce - jsem mnohem radši masérka, než šéfová. Radost mi dělají pozorní, voňaví, milí klienti, bez ohledu na věk, kteří se řídí stejným heslem jako já - Přej a bude ti (do)přáno. Díky některým z Vás se často cítím vyjímečně a věřím, že podobný pocit si odnášite také.
Miluji tillandsie a fiilodendrony, ve sbírce mi stále chybí Monstera panašovaná... :)
Parfémy, na které mám náladu vždy - Chanel Chance nebo Gucci Guilty... ale moc ráda experimentuji, miluji chyprové vůně
Tělová kosmetika Victoria Secret nebo Pure Fiji
More
What they wrote about me:

Nepatřím k pamětníkům začátků Hančina salónku, ale již nejsem ani nováčkem. Jeho návštěva je pro mne opravdovým životním elixírem, který mi dodává nejen fyzickou, ale hlavně duševní sílu. Každá masáž je zážitkem, který působí na mou vnitřní pohodu a vyrovnanost. Vyvolává v mém nitru nesmírný klid a je inspirací i v mém osobním, partnerském a rodinném životě. Bylo mi potěšením strávit pár hodinek v hřejivé náruči milých dívek i v prvním jarním týdnu, který však byl velice mrazivý a pochmurný. Podařilo se mi najít vhodný termín a vyzkoušet relaxační masáž od Haničky. Přestože se snažím občas o své rozlámané tělo pečovat, ne vždy je masáž na takové odborné úrovni, že opravdu pomůže a uleví mé šíji a zádům. To ovšem v žádném případě nelze říci o masáži od Hanky. Hančiny šikovné ruce a úžasné masážní prvky byly opravdu výjimečné a jedinečné. Druhý den jsem se cítil báječně a tento stav setrval minimálně týden. Bohužel jsem se na této první Hančině relaxační masáži dozvěděl, že bude končit. Je pro mě tudíž velikou ctí, že jsem byl vlastně téměř jeden z posledních, kdo tuto masáž podstoupil. Potěšení nejen pro mě je skutečnost, že nám Hanička nyní nabízí mazlivé erotické masáže. Samozřejmě jsem se hned objednal na návštěvu a popisovat průběh nemusím, recenze níže jsou toho příkladem. Já pouze mohu dodat, že závěrečné souznění a chvění našich těl nám bylo odměnou. A věřím, že nejen pro Haničku, ale i pro mě bylo toto setkání velikou inspirací. Moc bych si přál být v náruči Haničky při jedné z jejich posledních (doufám, že dočasně) masáží. HANIČKO, DĚKUJI a přeji Ti ať se Tvému "dílu" daří a já rád budu nadále získávat duševní energii při společných chvilkách s milou Eliškou, která je mým důvěrným andílkem.
I'm here for
Men
Women
Couples
My services
Foot job
Prostate massage
Lesbishow
Sauna
Bath
Nuru massage
My schedule
today
10:00 - 18:00
Reserve
tomorrow
10:00 - 18:00
Reserve
Thu, 20. 1:
10:00 - 15:00
Reserve
Fri, 21. 1:
10:00 - 18:00
Reserve
Sat, 22. 1:
-
Sun, 23. 1:
-
Mon, 24. 1:
12:00 - 15:00
Reserve
Tue, 25. 1:
10:00 - 18:00
Reserve
Wed, 26. 1:
10:00 - 18:00
Reserve
Thu, 27. 1:
10:00 - 15:00
Reserve
Fri, 28. 1:
10:00 - 18:00
Reserve
Sat, 29. 1:
14:00 - 20:00
Reserve
Sun, 30. 1:
-
Mon, 31. 1:
-
Tue, 1. 2:
-
Wed, 2. 2:
-
Thu, 3. 2:
-
Fri, 4. 2:
-
Sat, 5. 2:
-
Sun, 6. 2:
-
Pricelist
Erotic relaxing full body massage
The masseuse is topless, in panties or completely nude. Would you like a strip show, autoerotic show, lesbian show or prostate massage? All depends on the agreement with your masseuse… The massage is ended with a hand job or mutual fondling.
More
1 Masseuse
2 Masseuses
30 min

1 100

CZK

2 200

CZK
60 min

1 800

CZK

3 600

CZK
90 min

2 500

CZK

5 000

CZK
120 min

3 300

CZK

6 000

CZK
180 min

6 000

CZK

9 000

CZK
Want you try to something more? Look below... :)
Glossy massage
Is everything offered too normal for you? Do you slightly incline to the extremes, or you don't know yet, but would like to try? Here, everything goes that does not violate our rules. Even if it doesn't fit to our standards. Or does it? It doesn't matter. It is for those who just like all glossy, skin-tight or otherwise special things, that can be called by one word - fetish.

The massage is performed on latex / vinyl bed sheet. The lady is usually dressed thematically. Do you wish to bring something on with you? Anything! Nuru massage gel is 100 % gentle to all materials. However, there will be wet during the massage!

A room equipped with handcuffs, really hot massage candles and all our pleasant "torture aids" will be available for you. Again, it's up to you which one you would like to try.

Do you need a rougher treatment, or maybe experience something in SM style? Even this can be part of the massage. Basically, we can offer silent practices that will not disturb other clients. It is necessary to speak on specific possibilities with your masseuse in advance. If you feel like being a dominant one, there is a fundamental rule - you are the one who performs the massage on the masseuse!

Forget shyness. We have included this massage at the request of our clients. Some masseuses, however, supported the idea as they enjoy or are interested in this kind of extreme fun. So there is no need to feel ashamed of your ideas and desires. Feel free to tell about them.
More
1 Masseuse
2 Masseuses
90 min

3 900

CZK

6 400

CZK
120 min

4 700

CZK

7 400

CZK
180 min

7 400

CZK

10 400

CZK
This procedure is offered by Beata
Masáž s čajovým rituálem a vodní dýmkou
K objednané masáži pro Vás bude připraven "uvítací rituál" v podobě uvolňujícího posezení/poležení :) s Vaši masérkou u výborného sypaného čaje nebo vodní dýmky. Výběr z několika druhů čajů a tabáků.
+200

CZK
Čajový rituál
+200

CZK
Vodní dýmka k masáži
+300

CZK
Čaj + vodní dýmka
Sensual stimulation
Do you love erotic massages and cannot imagine the whole experience could be even more intense? Try our new variant of erotic massage, whose name speaks for itself.

It is generally known that when one sense is limited, the other senses heighten. It depends on your courage to be blindfolded or hand tied during the intimate massage. We also get some "toys" that will drive your senses completely crazy. They can unbearably beautifully stroke, gently scratch or even make you really hot. For example, I can name a massage candle that is an absolute novelty in our offer. All of the above will be available. You will speak on the details with a lady before the massage session.

Even our unfamiliar mysterious masseuse can encourage your senses. So let your imagination run wild and combine as you wish.
More
1 Masseuse
2 Masseuses
60 min

2 000

CZK

3 800

CZK
90 min

2 700

CZK

5 200

CZK
120 min

3 500

CZK

6 200

CZK
180 min

6 200

CZK

9 200

CZK
Nuru massage
A luxury erotic body-to-body massage performed with a special Nuru gel. We are the first in the Czech Republic who has offered Nuru massages. Nuru gel is really slippery so a massage with hands is virtually impossible. The weight of masseuse's body sliding on you in all directions will bring you true relaxation.
More
1 Masseuse
2 Masseuses
Express (40min)

1 900

CZK

3 300

CZK
80 min

2 800

CZK

5 100

CZK
Deluxe (110 min)*

4 300

CZK

7 000

CZK
* Nuru massage Deluxe includes sauna.
Erotic relaxing massage for couples
Erotic massages intended for both partners with the ending to your liking. Paired massage is the only way you can enjoy the real sex in our facility – with your partner in the presence of the masseuse. Or the masseuse can bring both of you to ecstasy. For couples wishing to relax together it is recommended to choose an erotic massage by two masseuses.
More
1 Masseuse
2 Masseuses
60 min

2 000

CZK

3 800

CZK
90 min

2 700

CZK

5 200

CZK
120 min

3 500

CZK

6 200

CZK
Nuru massage for couples
Paired Nuru massage provides the truly extraordinary erotic experience. Of course, there are two masseuses for you to be able to relax together with your partner. We have enough Nuru gel. It covers the massage itself, as well as partner sex at the end of the Nuru massage.
More
2 Masseuses
Express (40 min)

3 500

CZK
80 min

5 300

CZK
Deluxe (110 min)*

7 200

CZK
* Nuru masáž Deluxe je obohacena o procedůru saunování, či relaxace při společné koupeli. K samotné masáži je pro Vás připravena lahvinka sektu.
Gift vouchers
Do you want to surprise someone with an original gift in the form of erotic or Nuru massage? Our vouchers are to the value of the massage and have a limited validity for two months. We can agree over the phone about the value of the voucher and the time you can come to pick it up.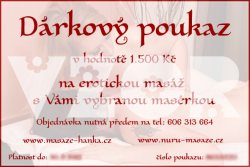 We accept EUR