Litujeme, ale slečna už u nás nepracuje...

Ester
| | |
| --- | --- |
| Age: | 26 |
| Height: | 164 |
| Dress size: | 80B, M |
| Piercing/tattoo: | Ne/Ano |
My experience

More
What can you expect from me?

What to expect from me? Extraordinary experience that you'll want to repeat. Are you searching for someone with fantasy, to talk to or simply to relax with? Then im the right girl for you. Seek me out and let me take care of all your pleasure.
What do I like?

I love to spend my free time by reading, playing video games or listening to music. You can make me happy with beautiful flower or a piece of my favourite salty caramel. But what will please me the most? If you'll be leaving satisfied..
What they wrote about me:

Ester mi zprostředkovala moje první zkušenosti se zdejším salonem a myslím si, že to ani nemohlo být lepší. Jsem povahy spíše stydlivé, takže jsem se k prvnímu setkání dostavil s pocitem nervózního očekávání. Ale nervozita se rozplynula už při našem pozdravu a očekávání začala být překračována prakticky ihned, protože se ukázalo, že Ester je ve skutečnosti ještě mnohem krásnější, než dávají tušit její fotky v galerii. Z fotek se naopak vytušit nedalo, že je i moc sympatická, milá a pozorná. Musím říci, že zejména poprvé to se mnou Ester neměla moc jednoduché, protože nijak nevynikám v sociálních interakcích, ale postupně se zejména jejím přičiněním nálada velmi uvolnila. Trochu tomu rozhodně pomohlo i počáteční povídání a nenucené dotyky ve vaně. Při masáži, která pak následovala, bych se možná nebránil nechat se jen ukolébat ve slastném snění pod hebkými dotyky jejích rukou. Ester ale nepřestávala statečně bojovat s mým ostychem a jejím přičiněním se moje představa o tom, co všechno lze při erotické masáži prožít, radikálně posunula (a za to jsem jí neskonale vděčný). A zatím se posouvá dál a dál při každé další návštěvě.
I'm here for
Men
Women
Couples
My services
Foot job
Prostate massage
Lesbishow
Sauna
Bath
Nuru massage
My schedule
today
-
tomorrow
-
Thu, 18. 7:
-
Fri, 19. 7:
-
Sat, 20. 7:
-
Sun, 21. 7:
-
Mon, 22. 7:
-
Tue, 23. 7:
-
Wed, 24. 7:
-
Thu, 25. 7:
-
Fri, 26. 7:
-
Sat, 27. 7:
-
Sun, 28. 7:
-
Mon, 29. 7:
-
Tue, 30. 7:
-
Wed, 31. 7:
-
Thu, 1. 8:
-
Fri, 2. 8:
-
Sat, 3. 8:
-
Sun, 4. 8:
-
It's possible to make an online reservation
with Ester, when you are logged in,
or on phone +420 606 313 664
Pricelist
Erotic relaxing full body massage
The masseuse is topless, in panties or completely nude. Would you like a strip show, autoerotic show, lesbian show or prostate massage? All depends on the agreement with your masseuse… The massage is ended with a hand job or mutual fondling.
More
1 Masseuse
2 Masseuses
3 Masseuses
30 min

1 000

CZK

2 000

CZK
-
60 min

1 500

CZK

2 800

CZK

3 800

CZK


(30min)

90 min

2 200

CZK

3 500

CZK

4 700

CZK


(45min)

120 min

2 800

CZK

4 000

CZK

5 500

CZK


(60min)

180 min

4 800

CZK

7 200

CZK

9 400

CZK


(90min)
Want you try to something more? Look below... :)
Nuru massage
A luxury erotic body-to-body massage performed with a special Nuru gel. We are the first in the Czech Republic who has offered Nuru massages. Nuru gel is really slippery so a massage with hands is virtually impossible. The weight of masseuse's body sliding on you in all directions will bring you true relaxation.
More
1 Masseuse
2 Masseuses
Express (40min)

1 600

CZK

2 500

CZK
80 min

2 800

CZK

4 400

CZK
Deluxe (110 min)*

3 700

CZK

5 800

CZK
* Nuru massage Deluxe includes bath or sauna.
Erotic relaxing massage for couples
Erotic massages intended for both partners with the ending to your liking. Paired massage is the only way you can enjoy the real sex in our facility – with your partner in the presence of the masseuse. Or the masseuse can bring both of you to ecstasy. For couples wishing to relax together it is recommended to choose an erotic massage by two masseuses.
More
1 Masseuse
2 Masseuses
60 min

1 800

CZK

3 200

CZK
90 min

2 200

CZK

4 000

CZK
120 min

3 000

CZK

5 000

CZK
Nuru massage for couples
Paired Nuru massage provides the truly extraordinary erotic experience. Of course, there are two masseuses for you to be able to relax together with your partner. We have enough Nuru gel. It covers the massage itself, as well as partner sex at the end of the Nuru massage.
More
2 Masseuses
Express (40 min)

3 500

CZK
80 min

5 000

CZK
Deluxe (110 min)*

6 500

CZK
* Nuru masáž Deluxe je obohacena o procedůru saunování, či relaxace při společné koupeli. K samotné masáži je pro Vás připravena lahvinka sektu.
Sensual stimulation
Do you love erotic massages and cannot imagine the whole experience could be even more intense? Try our new variant of erotic massage, whose name speaks for itself.

It is generally known that when one sense is limited, the other senses heighten. It depends on your courage to be blindfolded or hand tied during the intimate massage. We also get some "toys" that will drive your senses completely crazy. They can unbearably beautifully stroke, gently scratch or even make you really hot. For example, I can name a massage candle that is an absolute novelty in our offer. All of the above will be available. You will speak on the details with a lady before the massage session.

Even our unfamiliar mysterious masseuse can encourage your senses. So let your imagination run wild and combine as you wish.
More
1 Masseuse
2 Masseuses
60 min

1 700

CZK

3 000

CZK
90 min

2 400

CZK

3 700

CZK
120 min

3 000

CZK

4 200

CZK
180 min

5 000

CZK

7 400

CZK
Glossy massage
Is everything offered too normal for you? Do you slightly incline to the extremes, or you don't know yet, but would like to try? Here, everything goes that does not violate our rules. Even if it doesn't fit to our standards. Or does it? It doesn't matter. It is for those who just like all glossy, skin-tight or otherwise special things, that can be called by one word - fetish.

The massage is performed on latex / vinyl bed sheet. The lady is usually dressed thematically. Do you wish to bring something on with you? Anything! Nuru massage gel is 100 % gentle to all materials. However, there will be wet during the massage!

A room equipped with handcuffs, really hot massage candles and all our pleasant "torture aids" will be available for you. Again, it's up to you which one you would like to try.

Do you need a rougher treatment, or maybe experience something in SM style? Even this can be part of the massage. Basically, we can offer silent practices that will not disturb other clients. It is necessary to speak on specific possibilities with your masseuse in advance. If you feel like being a dominant one, there is a fundamental rule - you are the one who performs the massage on the masseuse!

Forget shyness. We have included this massage at the request of our clients. Some masseuses, however, supported the idea as they enjoy or are interested in this kind of extreme fun. So there is no need to feel ashamed of your ideas and desires. Feel free to tell about them.
More
1 Masseuse
2 Masseuses
90 min

3 600

CZK

4 900

CZK
120 min

4 200

CZK

5 400

CZK
180 min

6 200

CZK

8 600

CZK
Bath or sauna during the massage
If you wish to liven up your massage with shared baths or sauna, please, tell us about it when making an appointment.
+500 CZK to the massage price. Regardless of its length or kind.
Gift vouchers
Do you want to surprise someone with an original gift in the form of erotic or Nuru massage? Our vouchers are to the value of the massage and have a limited validity for two months. We can agree over the phone about the value of the voucher and the time you can come to pick it up.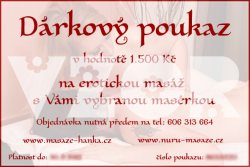 We accept EUR