Litujeme, ale profil není aktivní...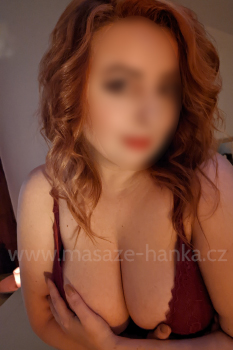 Alisa
| | |
| --- | --- |
| Age: | 31 |
| Height: | 167 |
| Dress size: | M, 80H |
| Piercing/tattoo: | Ano / Malé, nežné na zádech |
My experience

More
What can you expect from me?

I am glad to be back after a long break and full of positive energy. I hope that you will stop by my place and we will have a nice, pleasant and relaxing time together. My massage will allow you to express deep emotions, excitement and will definitely bring you sincere joy. I look forward to seeing you
My "Massage Exclusive" (více info)
I offer you my exclusive hands-free breast massage. It's like our Nuru massage before, but without the nuru gel :) An intense body to body experience. I have beautiful big breasts and you will have them everywhere. If you want, I'll tickle you with my claws, but otherwise I'll handle the whole massage with my soft body, but especially my breasts. From the beginning to the end. Sex between the breasts? As many times as you want, or can handle! Touch me - I'll tell you how I like it. If you want to try something new, don't hesitate, we are here for you. Me and my boobs.
What do I like?

Versace Crystal, Lilie, krásné spodní prádlo
What they wrote about me:

Včerejší masáž s Alisou byl výlet do jiné dimenze. Bylo to naprosto fantastické, skvělé a úžasné. Mockrát děkuji za dokonalý zážitek
Masíruji
muže
, ženy a páry
SLUŽBY
Masáž prostaty
Foot job
Body 2 body
Exclusive
Lesklá masáž
SCHEDULE
today
-
tomorrow
-
Sun, 3. 12:
-
Mon, 4. 12:
-
Tue, 5. 12:
-
Wed, 6. 12:
-
Thu, 7. 12:
-
Fri, 8. 12:
-
Sat, 9. 12:
-
Sun, 10. 12:
-
Mon, 11. 12:
-
Tue, 12. 12:
-
Wed, 13. 12:
-
Thu, 14. 12:
-
Fri, 15. 12:
-
Sat, 16. 12:
-
Sun, 17. 12:
-
Mon, 18. 12:
-
Tue, 19. 12:
-
Wed, 20. 12:
-
It's possible to make an online reservation
with Alisa, when you are logged in,
or on phone +420 606 313 664
Pricelist
Erotic massage ALL INCLUSIVE

?

Our erotic massage defines the best standard of intimate and sensual massage. Body massage (B2B), nudity, mutual touching, shared shower, prostate massage, ... and much more at NO CHARGE. Just ask your masseuse.
Our massages do not have a strict procedure. They are individually tailored to the needs of each client. The massage technique is basically based on Swedish massage, or other variations, depending on the experience of the masseuse.

Classical, oral sex (both sides), kissing, mutual touching (rubbing) of intimate parts are risky practices and therefore completely excluded. They violate the rules of our salon.

for men & women
for couples
1 Masseuse
2 Masseuses
1 Masseuse
2 Masseuses
30 min

1 300

CZK

2 600

CZK

1 500

CZK

2 800

CZK
60 min

1 800

CZK

3 600

CZK

2000

CZK

3 800

CZK
90 min

2 500

CZK

5 000

CZK

2 700

CZK

5 200

CZK
120 min

3 300

CZK

6 000

CZK

3 500

CZK

6 200

CZK
180 min

6 000

CZK

9 000

CZK

6 200

CZK

9 200

CZK
Want you try to something more? Look below... :)
Rituals to selected massage

?

A "welcome ritual" will be prepared for you in the form of a relaxing sitting/lounging :) with your masseuse over a delicious loose tea or hookah. Choice of several teas and tobaccos.

Tea

200

CZK

Hookah

200

CZK

Tea and hookah

300

CZK
Want you try to something more? Look below... :)
Erotic massage EXCLUSIVE

?

The content of this massage is different with each of us, incomparable. It is based on our nature, experience and ideas of what you might be missing. Massage Exclusiv can be an erotic concentrate, a relaxation ritual, a therapy, ...
This offer is only available to you by masseuses with many years of experience. You can find out what we have prepared for you by clicking on the names.

for men & women
for couples
1 Masseuse
By couple
30 min

2 000

CZK
-
60 min

2 500

CZK

5 000

CZK
90 min

3 300

CZK

6 600

CZK
120 min

5 000

CZK

10 000

CZK
180 min

7 500

CZK

15 000

CZK
Glossy "massage"

BDSM experience for those who are not afraid...

?

Is everything offered too normal for you? Do you slightly incline to the extremes, or you don't know yet, but would like to try? Here, everything goes that does not violate our rules. Even if it doesn't fit to our standards. Or does it? It doesn't matter. It is for those who just like all glossy, skin-tight or otherwise special things, that can be called by one word - fetish.

The massage is performed on latex / vinyl bed sheet. The lady is usually dressed thematically. Do you wish to bring something on with you? Anything! Nuru massage gel is 100 % gentle to all materials. However, there will be wet during the massage!

A room equipped with handcuffs, really hot massage candles and all our pleasant "torture aids" will be available for you. Again, it's up to you which one you would like to try.

Do you need a rougher treatment, or maybe experience something in SM style? Even this can be part of the massage. Basically, we can offer silent practices that will not disturb other clients. It is necessary to speak on specific possibilities with your masseuse in advance. If you feel like being a dominant one, there is a fundamental rule - you are the one who performs the massage on the masseuse!

Forget shyness. We have included this massage at the request of our clients. Some masseuses, however, supported the idea as they enjoy or are interested in this kind of extreme fun. So there is no need to feel ashamed of your ideas and desires. Feel free to tell about them.

for men & women
Exclusive
1 Masseuse
2 Masseuses
S Leilou
90 min

3 900

CZK

6 400

CZK

5 000

CZK
120 min

4 700

CZK

7 400

CZK

6 000

CZK
180 min

7 400

CZK

10 400

CZK

-
Sensual stimulation

?

Do you love erotic massages and cannot imagine the whole experience could be even more intense? Try our new variant of erotic massage, whose name speaks for itself.

It is generally known that when one sense is limited, the other senses heighten. It depends on your courage to be blindfolded or hand tied during the intimate massage. We also get some "toys" that will drive your senses completely crazy. They can unbearably beautifully stroke, gently scratch or even make you really hot. For example, I can name a massage candle that is an absolute novelty in our offer. All of the above will be available. You will speak on the details with a lady before the massage session.

Even our unfamiliar mysterious masseuse can encourage your senses. So let your imagination run wild and combine as you wish.

for men & women
1 Masseuse
2 Masseuses
60 min

2 000

CZK

3 800

CZK
90 min

2 700

CZK

5 200

CZK
120 min

3 500

CZK

6 200

CZK
180 min

6 200

CZK

9 200

CZK