Litujeme, ale profil není aktivní...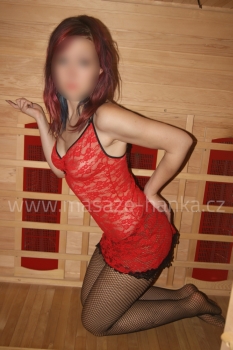 Natálka
| | |
| --- | --- |
| Age: | 33 |
| Height: | 165 |
| Dress size: | S, 70 B |
| Piercing/tattoo: | Ano/Ano |
My experience

More
What can you expect from me?

Lately, I miss you unusually:) Once you become a masseuse, it probably will remain. In the future I plan to appear in the schedule for a few hours a week. But if you can't wait, try to write me a private message and we'll try to make it out.
What do I like?

I'm a shopaholic, so I'm excited about all sorts of gift vouchers for various stores, YSL Black opium
What they wrote about me:

Salón pravidelně navštěvuji už 4,5 roku. Po odchodu své dvorní masérky Elišky jsem se svěřil do péče další šikovné a empatické masérky Natálky. Už jsem s ní v průběhu letošního roku absolvoval několik masáží, vanu i saunu a vždy to bylo po všech stránkách perfektní. Natálka masíruje všemi částmi svého pěkného těla opravdu precizně, je milá a pozitivní a vždy si i perfektně popovídáme. Masáž a celé setkání s Natálkou přináší v rámci pravidel salónu vždy úžasný prožitek.
I'm here for
Men
Women
Couples
My services
Foot job
Prostate massage
Lesbishow
Sauna
Bath
Nuru massage
My schedule
today
-
tomorrow
-
Mon, 30. 5:
-
Tue, 31. 5:
-
Wed, 1. 6:
-
Thu, 2. 6:
-
Fri, 3. 6:
-
Sat, 4. 6:
-
Sun, 5. 6:
-
Mon, 6. 6:
-
Tue, 7. 6:
-
Wed, 8. 6:
-
Thu, 9. 6:
-
Fri, 10. 6:
-
Sat, 11. 6:
-
Sun, 12. 6:
-
Mon, 13. 6:
-
Tue, 14. 6:
-
Wed, 15. 6:
-
Thu, 16. 6:
-
Pricelist
Erotic relaxing full body massage
The masseuse is topless, in panties or completely nude. Would you like a strip show, autoerotic show, lesbian show or prostate massage? All depends on the agreement with your masseuse… The massage is ended with a hand job or mutual fondling.
More
1 Masseuse
2 Masseuses
30 min

1 300

CZK

2 600

CZK
60 min

1 800

CZK

3 600

CZK
90 min

2 500

CZK

5 000

CZK
120 min

3 300

CZK

6 000

CZK
180 min

6 000

CZK

9 000

CZK
Want you try to something more? Look below... :)
Glossy massage
Is everything offered too normal for you? Do you slightly incline to the extremes, or you don't know yet, but would like to try? Here, everything goes that does not violate our rules. Even if it doesn't fit to our standards. Or does it? It doesn't matter. It is for those who just like all glossy, skin-tight or otherwise special things, that can be called by one word - fetish.

The massage is performed on latex / vinyl bed sheet. The lady is usually dressed thematically. Do you wish to bring something on with you? Anything! Nuru massage gel is 100 % gentle to all materials. However, there will be wet during the massage!

A room equipped with handcuffs, really hot massage candles and all our pleasant "torture aids" will be available for you. Again, it's up to you which one you would like to try.

Do you need a rougher treatment, or maybe experience something in SM style? Even this can be part of the massage. Basically, we can offer silent practices that will not disturb other clients. It is necessary to speak on specific possibilities with your masseuse in advance. If you feel like being a dominant one, there is a fundamental rule - you are the one who performs the massage on the masseuse!

Forget shyness. We have included this massage at the request of our clients. Some masseuses, however, supported the idea as they enjoy or are interested in this kind of extreme fun. So there is no need to feel ashamed of your ideas and desires. Feel free to tell about them.
More
1 Masseuse
2 Masseuses
90 min

3 900

CZK

6 400

CZK
120 min

4 700

CZK

7 400

CZK
180 min

7 400

CZK

10 400

CZK
Masáž s čajovým rituálem a vodní dýmkou
K objednané masáži pro Vás bude připraven "uvítací rituál" v podobě uvolňujícího posezení/poležení :) s Vaši masérkou u výborného sypaného čaje nebo vodní dýmky. Výběr z několika druhů čajů a tabáků.
+200

CZK
Čajový rituál
+200

CZK
Vodní dýmka k masáži
+300

CZK
Čaj + vodní dýmka
Sensual stimulation
Do you love erotic massages and cannot imagine the whole experience could be even more intense? Try our new variant of erotic massage, whose name speaks for itself.

It is generally known that when one sense is limited, the other senses heighten. It depends on your courage to be blindfolded or hand tied during the intimate massage. We also get some "toys" that will drive your senses completely crazy. They can unbearably beautifully stroke, gently scratch or even make you really hot. For example, I can name a massage candle that is an absolute novelty in our offer. All of the above will be available. You will speak on the details with a lady before the massage session.

Even our unfamiliar mysterious masseuse can encourage your senses. So let your imagination run wild and combine as you wish.
More
1 Masseuse
2 Masseuses
60 min

2 000

CZK

3 800

CZK
90 min

2 700

CZK

5 200

CZK
120 min

3 500

CZK

6 200

CZK
180 min

6 200

CZK

9 200

CZK
Erotic relaxing massage for couples
Erotic massages intended for both partners with the ending to your liking. Paired massage is the only way you can enjoy the real sex in our facility – with your partner in the presence of the masseuse. Or the masseuse can bring both of you to ecstasy. For couples wishing to relax together it is recommended to choose an erotic massage by two masseuses.
More
1 Masseuse
2 Masseuses
60 min

2 000

CZK

3 800

CZK
90 min

2 700

CZK

5 200

CZK
120 min

3 500

CZK

6 200

CZK
Gift vouchers
Do you want to surprise someone with an original gift in the form of erotic or Nuru massage? Our vouchers are to the value of the massage and have a limited validity for two months. We can agree over the phone about the value of the voucher and the time you can come to pick it up.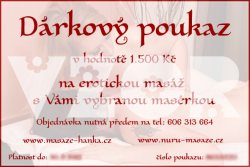 We accept EUR