The process of Erotic massage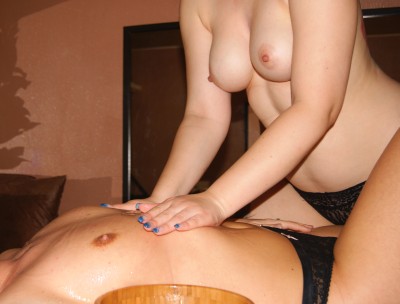 Making an appointment
To enjoy our erotic massage, it is necessary to make an appointment. You can call one of our phone numbers or do it online, in case you are a client of our loyalty program. Phone calls are answered only by our masseuses, therefore the lady of your choice may already enchant you when making an appointment.
In front of the house
The entrance is very discreetly marked only by the house number. Thus, you do not have to worry about being seen by a passing-by friend while announcing your arrival to the masseuse. Nobody will know you are going to an erotic massage since we don't have any label on the doorbell (in fact we don't have a doorbell either). It is known only to those who use our services too and that means you're in it together. :)
And what is our house number? Our masseuse tells you when making an appointment.
Inside the house, inside the salon
We appreciate your trust! You entrust your body and even your reputation, due to the nature of our services, in our hands. Although erotic massages are perfectly natural kind of relaxation, we are well aware that not everyone understands it. So why not to avoid any unpleasant explanations? We strive to provide maximum discretion. Appointments are made far enough in advance so you do not meet the previous client. Your masseuse keeps her eyes on you all the time. She accompanies you everywhere – from the entrance to the bathroom….
Massage room
At first, you may find it strange that you go for a massage and see no massage table. Soon you will appreciate that you do not have to climb on a table. You will lie down comfortably on our massage mat. You will not have to worry about falling down....there is nowhere to fall. In case you are cold, our massage mats are equipped with a heating system.
Before the massage
Initially, you and the masseuse will comfortably sit down in the massage room. She will clarify the type, length and cost of the massage for you. It is in order to avoid an unpleasant surprise at the end that you got it all wrong. You will be asked if you have any special wish. Feel free to mention anything that does not violate our rules! Everything depends only on mutual agreement. We will be happy to accommodate your wishes. All practices such as foot job, prostate massage…do not affect the price of the massage!
Have you agreed on the essentials? So now you just enjoy… The masseuse will bring a snack and prepare bathroom. It's up to you to take a shower together with the masseuse or if you prefer to be alone in the bathroom.
After the massage
This part is equally important. We are well aware of it. You will have enough time to just lie down and talk for a while…or to be silent and just cuddle against each other. Time really does not matter to us.
We recommend you not only study the description of the massage process, but also read through our reviews. Those are the opinions of our visitors. Better yet, do not read anything at all and enjoy the magic of surprise.