The process of Nuru massage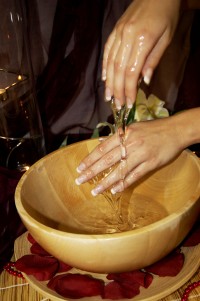 What is Nuru?
NURU word comes from Japanese and means slippery, slimy. It is the main feature of the special NURU gel produced from seaweed in Japan.
The gel has a thick consistency. It looks like lubricants. It does not dry up. It is not sticky. It glides beautifully. "The matter" is soluble in water, so you do not have to be afraid of leaving "greasy" like after oil massage. Nuru gel is not oil.
The process of Nuru massage...
We start with a thorough soap massage in the shower. The masseuse will soap and gently massage every inch of your body. You can, of course, do the same to her in return. She dries your body and the massage can begin.
Massages are performed on a heated mat with an impermeable coating. It is a body to body massage which is carried out with slow gliding movements, sometimes even with the whole weight of the masseuse's body. You don't have to worry about being overlaid. It is hard to imagine. You have to experience it. Extreme slipperiness of the gel enables a different perception of weight, touch, pressure.
Ending of the massage...
As you already know, we have a clear rule – no sex (not even oral sex). This rule also applies to our Nuru massages. Everything which is not forbidden is allowed, though. So if you have a special request or a secret dream, do not be shy to tell us. It is up to an individual masseuse what she allows you to experience...